A healthy immune system can help us stay away from cold and infections. When many illness and sickness affect us, we search for ways to boost our immune system. We eat food accordingly and do many other things, but seldom do we think about martial arts as an immunity booster.
The truth is that no matter how hard you try to be safe and healthy, and free from infections, through food and diet, nothing works better than a comprehensive workout. Through consistent training, say martial arts and its many forms, you would be in the best shape of your life and your body would be capable of tackling anything that comes attacking.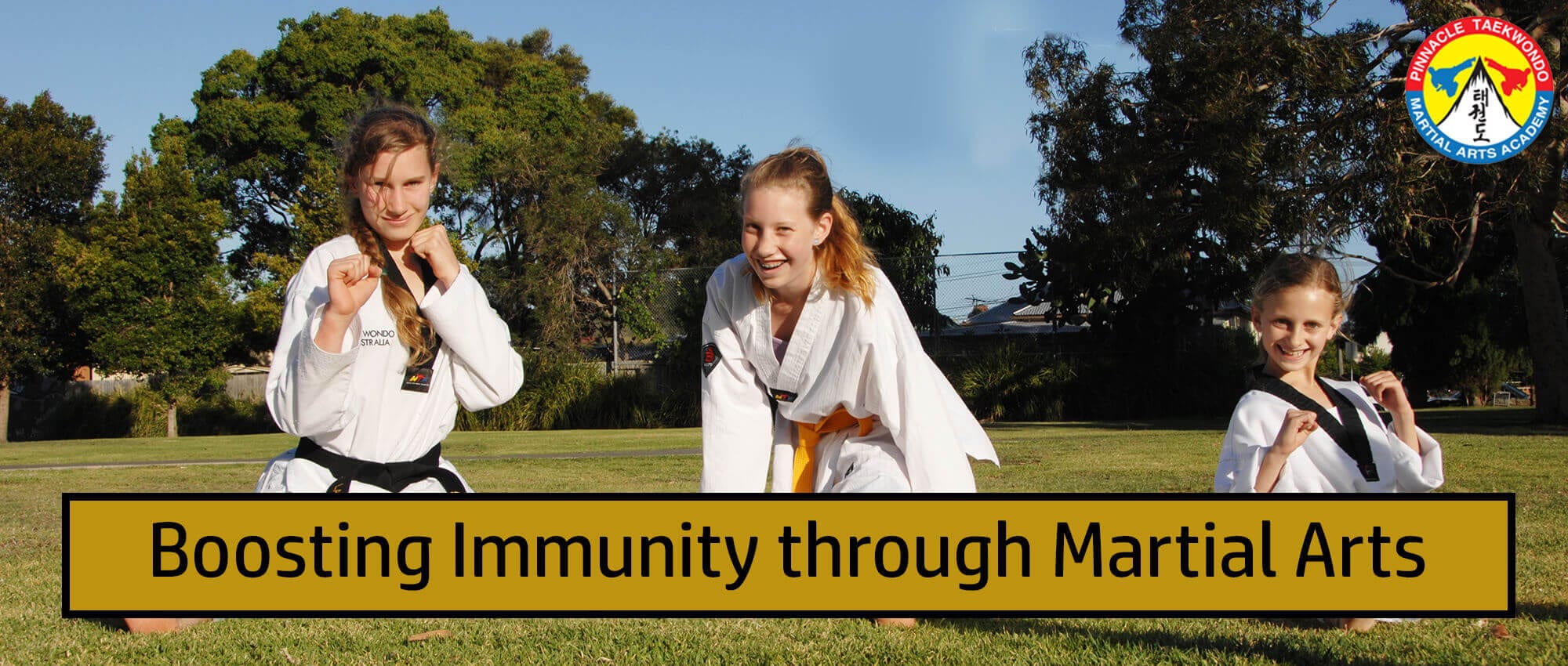 Let us check how Martial Arts and its different styles help in boosting immunity:
Reduces Stress – The high production of stress-related hormones are one of the major reasons for increased stress is people. These increased levels of stress hormone can also make you more vulnerable to infection and illness. When you train in martial arts, your whole body will work out. This also aids in low levels of stress hormone production that keeps us healthy in mind and body.
Detoxifies Body – The accumulation of toxins would cause much harm to the body. Our body would become weak and vulnerable to attacks of pathogens and viruses. One of the main reasons for the accumulation of toxins is junk foods and a lack of physical activity. To get your body to detoxify, you should get moving. Through training at Martial Arts Marrickville you can increase the circulation of blood and lymph in your body, which flushes out toxins and purifies your organs. The training would also strengthen your muscles and increase your lung capacity and expel more carbon dioxide.
Improves Sleep Quality – Many studies have revealed that sleeping less than 6 hours a day would put you more at risk of falling ill. If you train in martial arts, consistently, at a regular time, you would be able to realign your internal clock and get more sleep. Sleeping healthy would help your body to repair itself easily.
Helps Body Heal Better – When you start training in martial arts and any regular physical activity, your body would develop the capacity to heal easily and recover more quickly. This helps in keeping infections and sickness at bay.
These are some ways in which you can boost immunity through Martial Arts training. For the best training in martial arts styles, you can enrol with Pinnacle Martial Arts Academy. We provide a dynamic and comprehensive martial arts training that helps each person to achieve their pinnacle.
Pinnacle Taekwondo Martial Arts Marrickville Inner West Sydney and Chester Hill Bankstown Area South West Sydney is ideal for Fitness, Discipline, Focus, Self Defence, Character & Physical Development
At Pinnacle Martial Arts Marrickville Inner West and Chester Hill Bankstown Area South West Sydney, we have incorporated many disciplines and integrated the dynamics of Sports Taekwondo, Kung Fu, Korean Karate, Traditional Taekwondo, Hapkido, Boxing, Kick Boxing and fitness to provide the most practical and effective Martial Arts self defence techniques for kids, teens and adults.
We have adopted these disciplines to complement each other thus creating the fast, powerful, exciting and dynamic Pinnacle style. Pinnacle Martial Arts Taekwondo Academy designed popular programs to suit the specific ages and levels of our members.
More Benefits of training with Pinnacle Kids & Teens Martial Arts in Sydney
The Kids Martial Arts programs we offer focus on building the child's confidence, discipline, self-esteem, self-control, balance, power, strength, speed, agility, motor skills, focus, Fitness, determination, problem solving, team work, communication skills, concentration though specific Kids & Teens Martial Arts and Self Defence in a structured, fun, motivating, safe family friendly environment.
Great News ! The NSW Government is helping kids get active with the new Active Kids Program. Parents, guardians and carers can apply for a voucher valued up to $100 per calendar year for each student enrolled in school.
Sydney's Pinnacle Taekwondo Martial Arts & Fitness is an approved NSW Government Active Kids Program Provider
The Active Kids Program voucher may be used with Pinnacle Martial Arts Sydney a recognised and registered activity provider for registration, participation and membership costs for Martial Arts, Taekwondo, Self Defence, sport, fitness and active recreation activities. The voucher can be used at any time during the calendar year it was issued.
Book A Free Class: https://pinnaclemartialarts.com.au/book-free-martial-arts-classes/
Email: [email protected]
Website: https://pinnaclemartialarts.com.au/
Facebook: www.facebook.com/sydneypinnaclema
Instagram: www.instagram.com/pinnaclemartialartssydney
Is Pinnacle Taekwondo Martial Arts Near Me?
HQ: Pinnacle Karate Martial Arts Marrickville is located at 23 Yabsley Ave Marrickville Inner West Sydney
2nd Branch: Pinnacle Taekwondo Martial Arts in Chester Hill is located at 12 Banool St Chester Hill, Bankstown Area in South West Sydney